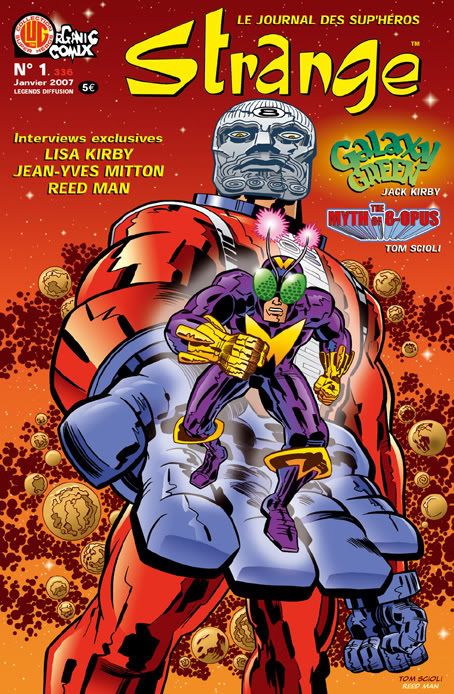 Here's the cover to the first issue of "Strange", featuring 8-Opus, which will be published in January in France. It's going to feature a serialized reprinting in full-color of the 8-Opus "Prologue" graphic novel.
This cover is the first new piece of 8-Opus art that's been published since 2004. The character 8-Opus is holding in his hand there is Mikros, a superhero who appeared in the original "Strange" comic magazine of the 70's and 80's. The old "Strange" was an anthology that featured a lot of the Marvel and DC superheroes, and also some homegrown heroes, like Mikros, for the French comics market.
This issue has a new Mikros adventure, and an interview with his creator, Jean Mitton. Comics fans stateside who aren't familiar with his work should definitely check out his "Death of the Silver Surfer" comic. It's never been translated into English (as far as I know) but the pictures tell the story beautifully.
Also in "Strange" is a story by the King himself, Jack Kirby. The story's called "Galaxy Green." It has been printed before in The Kirby Collector, but this is the first time it will appear in color. I always feel very honored whenever my artwork appears in the same book as Kirby's.